When US rapper Wale released a new song titled "Fine Girl" featuring Olamide and Davido last week, Nigerians celebrated.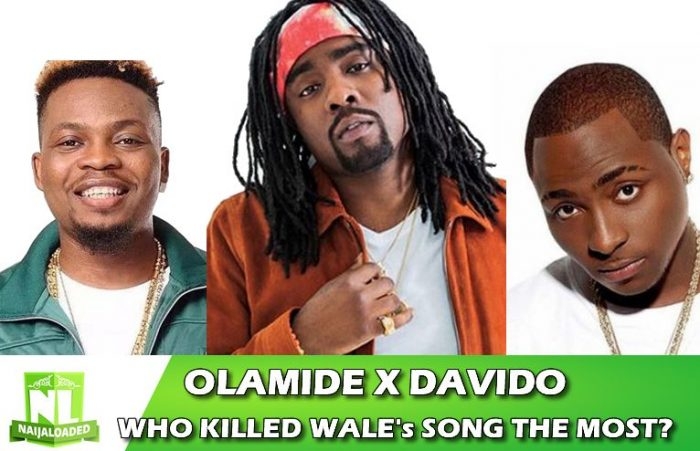 Incase you don't have the Song, Download it HERE
Two and a half local artists were featured on the project; Olamide and Davido are Nigerians who ply their trade within the shores of the country. While Wizkid has one leg in and the other is chasing Drake and the rest of America. Good luck.
Olamide and Davido were featured on the song titled 'Fine Girl', a typical Nigerian title which sits right in place with the numerous song designed and concocted in the studios that litter Lagos. What makes it more interesting is that they were the only featured artists on the record and so you know, it's going to be a Naija-centric affair.
The song was released few days ago and is currently sitting at the top of Many Charts already but Fans are still not feeling some of our own so called Top Stars. However, The reactions are mixed and we can't really decide on who killed the track the most between our own Olamide & Davido.
With over 489.856 Downloads here on Naijaloaded, We can't really who smashed the song to make it become a hit and that was why this Post was created
Now our Question is ⇒ From your Own Point of View "Who Do You Think Killed Wale's "Fine Girl Song" The Most?"
Tell us by dropping your comment below.
For Me (Makinde), Here is what I have to say concerning this Song, Read below:-
Olamide was a blessing to the song. The YBNL rapper grabbed the chance with both hands to handle the post-hook with a looping chant.
He was immense, providing a local balance to the vibe, and hands-down providing the core highlight of the entire record. Without Olamide, this would have been regular, with no spark.
Davido on the other hand, failed to properly bring his best on to the record. Weak line meets weak line, and the result was this:-
"Give me the motion like a motion picture
Show your back, I wan predict your future
Give me love and I give you a return
Star Card or Visa, baby which one you want?
Sachs Fifth, with a east side ting
Rodeo, with a west side ting
Bad boy on a worldwide ting
Don't forget, I'm reppin' green white green
Oh girl you turn me to an animal
For you I throw a carnival
You want it, honey? Take it easy
Shey you nor know say I get stamina
Oh baby come over anytime you want
Do way you whine your body bust my medulla
She be fine girl, she be fine girl
And this one nor be regular"
Too weak fam. Too weak.
Davido has enough international experience and aspiration to recognize that this was a chance to give his name some needed life in the land where he wants to be relevant.
But nevertheless, it's an enjoyable song, something that would ride into the summer season, and underground dance circuits of numerous cities. Wale, Olamide and Davido have just let some juice out, and it is fire.
What do you think about this song?
Drop your comments..
source:
http://guruspage.com.ng
You can create new topics, post your blog, adverts, eyewitnesses, news, gossips, articles, events, on this forum.